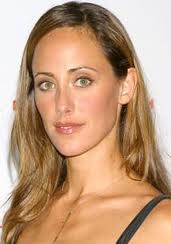 Kim Raver was born on the 15th of March 1969 in New York City and her birth name is Kimberly Jayne Raver. Her nickname is Kimmy and is 5'8" in height and is married to Manu Boyer and has two children with him.
Trivia
In the beginning of her career, Raver paid her bills by acting in commercials that brought her to Venice for a Visa ad and in a Jeep for Blade Runner (1982) director Ridley Scott.
Big break came with her Broadway debut in the play "Holiday" in which she co-starred with Laura Linney (The Truman Show (1998)) and Tony Goldwyn.
Other television credits include a lead role on NBC's "Trinity" (1998)and guest starring roles in such series as "The Practice" (1997), "Spin City" (1996), and NBC's "Law & Order" (1990), and a recurring role on "Central Park West" (1995). She also appeared in the feature film City Hall (1996) with Al Pacino.
Co-starred in the Williamstown production of "The Glimmer Brothers, written by Warren Leight, this year's Tony Award winner for "Sideman". She costarred with David Schwimmer ( NBC's "Friends" (1994)) and John Spencer (NBC's "The West Wing" (1999)). [Summer 1999]
Lives in New York and spends her free time running, practicing yoga and being near her close-knit family.
Received BFA from Boston University School for the Arts in 1991.
Appeared on "Sesame Street" (1969) as a child.
Auditioned to the movie The Last of the Mohicans (1992).
Mother, Tina Raver; step-father, Chris Meltesen; and older sister, Cybele
After five seasons on "Third Watch" (1999) she left for a role on "24" (2001), ironically the sixth season of "Third Watch" (1999), the only one she didn't take part in, was the show's last season.
Children with Manu Boyer: Luke West Boyer (b. 2002) and Leo Kipling Boyer (b. October 9, 2007 in NYC).
She and her "Lipstick Jungle" (2008) co-star, Brooke Shields, both attended the same grade school.
Her big Broadway break was in "the Holiday" with Laura Linney. Both of them attended the same independent high school, Northfield Mount Hermon, but at different times. Linney graduated in '81 while Raver graduated in '85.
Where Are They Now
(2005) After 5 seasons of the show, Kim is still portraying:
Kimberly "Kim" Zambrano on the drama "Third Watch" (1999).
(June 2005) Filming Haunting Sarah
(2005) (TV) in Winnipeg, Manitoba, Canada.
Community content is available under
CC-BY-SA
unless otherwise noted.