Chicago
is a major city in the western portion of the
Monroe Republic
.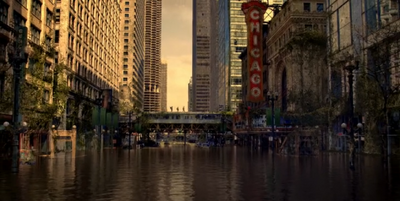 Pre-Blackout
In 2012, Chicago is depicted as a bustling city and major population center.
Post-Blackout
In the days after the Blackout, Ben Matheson and his family left Chicago, but not before Ben stopped by his office at the University of Chicago for an unknown reason. They carried most of their supplies in two red wagons, and Charlie and Danny rode in them as well. As they left, the city burned behind them and the roads were choked with derilect cars. Looting was also rampant.
By 2027, the city's buildings have fallen into disrepair and portions of the city are flooded, but it is still populated by a large number of people.  ("Pilot") As part of the Monroe Republic, the city has found new life serving as a trading and fishing hub, as well as supplying settlements on the northern frontier of the Republic. Several prominent buildings still stand; Wrigley Field is overgrown and abandoned, and Chicago O'Hare International Airport has become a haven for thieves, while The Grand hotel has been converted into a bar and residence by Miles Matheson . The first floor serves as a bar, while the second floor has been decorated with paintings, trophies, and other items that he took from various museums around the city.
Residents
Ben Matheson (pre-Blackout)
Charlie Matheson (pre-Blackout)
Danny Matheson (pre-Blackout)
Miles Matheson
Rachel Matheson (Pre-Blackout)
Gallery